The St. James Choral Group from Kansas, Ohio is on the road again presenting His Last Days.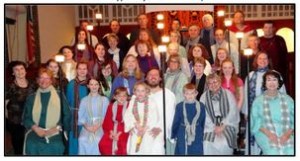 "His Last Days" was written in 1979 by Dallas Holm.
The 2018 Season will be the group's 30th and final year of commemorating Lent by performing this musical. His Last Days is a story in song about Christ's last days on earth. From His triumphant entry into Jerusalem, the agony in the garden, and the crucifixion, to His glorious resurrection, His Last Days lets you walk with Him on His final journey.
What started in 1989 as a meaningful Good Friday service, at our home parish, has branched out across northwest Ohio and into Michigan. The first year began with four performances in three different locations. Some previous years' schedules held between 4-12 performances. Over the past 29 years, the group has presented His Last Days 213 times to audiences of over 41,700 traveling over 10,600 miles. They have traveled as far east as Vermilion, west to Paulding, south to Lima, north to Troy, Michigan.
There have been a total of 154 individuals involved in the musical group. This year we have 43 members in the group from several different churches and communities. Five have been members since its inception.
The cast members are: Bill Daunhauer as Jesus and Adam Daunhauer as Pilate; Steve Johnson as Peter, Morgan Johnson and Kelsey Hammett as the Adulterous Woman, Kim Johnson as Mary and Butch Bish as the Centurion. The narration is done by Jim Hull.
Ginny Hull, director, oversees all aspects of the musical from the choir and lighting, to the technical crew. The technical assistants include David Daunhauer, Gena Daunhauer, Jim Hull.
This is an ecumenical program that can be enjoyed by adults and children of all ages. The musical lasts approximately 45 minutes and is accompanied by slides visually retelling "His Last Days." All performances are free and open to the public. Free will offerings are accepted and money in excess of expenses is given to a needy cause.
If you need any additional information: call 419-618-1929, write Ginny Hull at 6966 N. Twp. Rd. 156, Kansas, Ohio 44841 or e-mail gahull1941@gmail.com.
Ginny Hull, Director                                                                                                                                     The Kansas St. James Choral Group
---
If you know someone who wants to join the group, please let Ginny know as soon as possible.
---
Schedule for 2018:
Sunday, March 4th at 7:00 PM – Fostoria, Grace United Church of Christ
    4481 US 23
Sunday, March 11th at 7:00 PM – Tiffin: Trinity United Church of Christ
    131 E. Perry St, Tiffin, Ohio
Sunday, March 18th at 6:30 PM – Old Fort: Old Fort United Methodist Church
    8245 Main St, Old Fort, Ohio
Good Friday, March 30th at 8:00 PM – Kansas St. James
     6482 CR 25 (corner of CR 28, Fostoria/Rehobeth area)
View a short clip.