We have a children's program for Pre-K through 6th graders.  They meet during Mass and learn about the life of Jesus through story, song, and crafts.  They often participate in the Mass by playing musical insturments, singing, or clapping to songs.      
A group of 7-12 students also gather weekly during Mass.  They learn about Christ through stories, discussions, and service.  They serve, play music, read, and bring up the gifts.  They are also involved with "The Alley", a group of teens in the Kansas area, through the Kansas United Methodist Church.  Students participate in other local service organizations.  Anyone is welcome to join these groups at any time.  If you have any questions, use the "Contact Us" form.
All children are welcome to attend our youth programs!
---
Six of our Youth (grades 7-11) were confirmed on December 21, 2013! Congratulations to Allison, Abbey, Kelsey, Morgan, Erica, and Erin for completing the preparation program and service projects!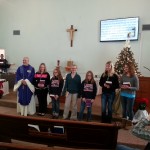 ---